Yes, the Covid-19 pandemic has really been tough on us. We have kept a social distance, are home-stuck for good 200 days, jobs have been lost and there is a list of things we can list down here that have not been in our favour in 2020.
But, where there are lows, there are a few highs too. The pandemic lockdown has given us a lot of TIME in hand. There is lot of time to work on ourselves, work on our surroundings, our home gardens, reading books and also something productive like beautifying your home interiors.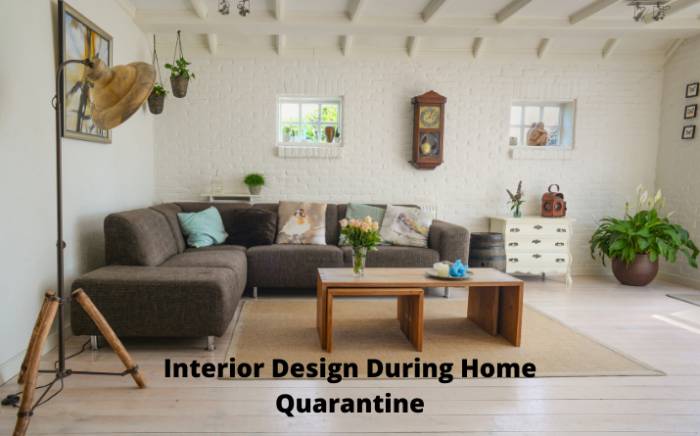 From north to south and from east to west, just take a walk across your home, we bet you can find a few spider-webs here and there. This is your time to clean the house thoroughly, from all the walls to flooring, do not leave a stone unturned and a spot uncleaned.
Use this opportunity to change and grace your home decor. You can paint a wall, change your curtains, build yourself a new wooden book shelf or just grow some beautiful flowers for your home decor ideas. At times, a smallest change in your house interior design can ring-in a lot of positivity and calmness.
Check out these quality DIY interior tips and ideas that will not only help you in your home interior decor but will take the boredom away from you:
Take Your Paint-brushes Out
Have a look at your walls, do they look dull to you? If yes, it's time to paint them in colours of happiness. Take your home decor ideas to new levels, redo your walls with any paint colour that you can look and feel a sense of calmness. You can also try the different patterns and easy DIY methods to personalized paint by number your walls. If you have plain chairs, stools or racks, try your hand on them.
Give them a distressed look and moreover, you can also try painting a few sceneries if you are really good at it.
Make Your Wall an Exhibition Center
Your walls have the potential to speak a lot about your personality, just give it the right justice!
Do prioritize wall decor in your house decor ideas. From the gallery walls to your living room or bedroom walls, get it some of the best craft and artworks. Bring in some intellectual photo frames of professional artists or simple DIY hangings made by you which you can mount on any of your home walls.
A cost effective choice, bring some old photographs of you and your loved ones, buy some good photo frames and why not just hang them! You can also mount abstract elements like wooden slats, old toys, rustic twigs, vintage mirrors, a tennis racket or any of the other s tuff that you can easily find in your dump.
Take Your Furniture for a Shift
There are several furniture elements lying in your home in the same place for ages. Shift them and see your home interior design getting a new look altogether. You can also move your sofa and couch to a different empty space. For an effective makeover, bring in some armchairs together for the perfect cozy conversation. Quarantine period has certainly changed our lifestyle, turn your comfort furniture in ways that will perfectly suit your new normal lifestyle.
Gardening is Heartening
Gardening is a hobby that can gradually help you in home decor as well. Mount a cute flower pot on some of your wall or furniture will actually be an effective way of enhancing your house interior design. You can even paint these pots in colours of your choice. It's a effective and affordable way of turning yourself into a professional interior designer.
We hope these tips and tricks would do your home interior a world of good. And as we said above, there is plenty of TIME in your hands. Make sure to make the most of it!