2020 was the year when everybody's lives came to a standstill. With the imposition of lockdown due to the COVID19 Pandemic, everything became dull and boring. People started to find amusement in all the little things that went unnoticed before. With people spending more time at home than going out, home projects have become an interesting pastime hobby. Learning to make your home a better place doesn't just solve the problem of boredom, but also makes you spend time with your family and bond with them more.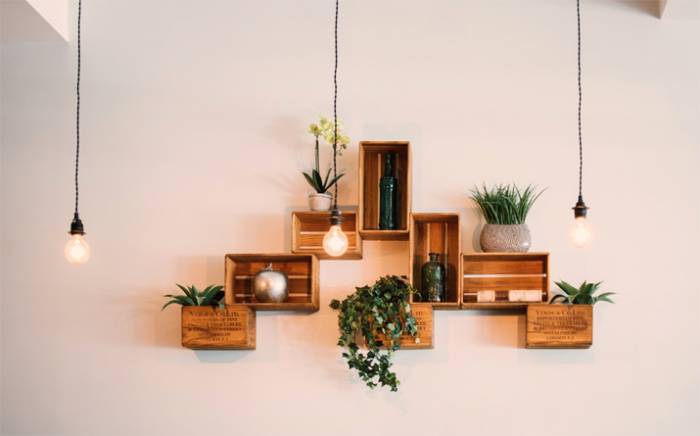 Doing DIY projects has become affordable because of the discounts and deals being offered at all the different DIY stores. Stores like Hobby Lobby sell good quality home essentials and with Hobby Lobby coupons and promo codes, you can avail up to 50% off on all its product. This amazing savings opportunity cannot be missed!
Here are 10 interesting DIY home projects that you can easily do to revamp your home space a little bit:
Customise Your Mirror
Tired of having a plain and boring mirror? Why not change it into something prettier and aesthetic? The DIY for customizing your mirror is all about the spray paints and tapes. You can simply get your favorite colored spray paint, cover your mirror with papers and start painting the edges or the frame of your mirror. This would add a little color to your mirror. To decorate it more, you can use colorful or designer tapes to make pretty designs in the corners of the frame itself And voila, the boring mirror lives no more!
Build a Bookshelf
A lot of people don't have bookshelves in their houses because it takes up space. Bookshelves are pretty easy to make and they also give an aesthetic look to your room. If you're thinking of getting a bookshelf, why not go for a DIY Bookshelves and create more storage so you can simply build one according to your need. DIY bookshelves don't necessarily have to be costly and time-consuming. You just need to pick up things from the right place and follow the process carefully.
Decorate the Front Door
The first thing that everybody sees when they enter your house is the front door. Redecorating your front door a little won't hurt anybody! It is the easiest DIY home project because it doesn't take up a lot of time and effort. You can simply make up a photo frame, create an aesthetic wall hanging, or make a paper wreath and fix it nicely on the front door. This will make your front door look less basic and more aesthetic.
Repaint an Old Wall
Room decor isn't just about the furniture that stays in it, it's also about the 4 walls it is built with. Repainting an old wall is the most fun DIY project to do with your family. You have a lot of options to give your old wall a little makeover. You can simply change the color, make up a texture, or try out wallpaper for an old wall makeover.
Change Your Curtains 
Curtains are the one thing that doesn't get replaced very often when it comes to home decor. If it's time to add more spice to your room, why not change the curtains and get new ones, or better, sew them yourself! You can sew any design you want easily and give your curtains a different design! It might take up a lot of time, but it's definitely worth it.
Make up New Flower Pots
If you like keeping your room full of vases, flower pots, or other showpieces, This is the best DIY project for you. Changing up the old flower pots by making new ones or redesigning the old ones is also one of the easiest DIY projects ever. It doesn't take up a lot of time. You can Try painting new designs on your old flower pot or getting a new one and decorating it to make it look better. Add up more flowers, natural or artificial according to you, and spice up your room aesthetic.
Reform a Piece of Wood Into a Showpiece
Showpieces decorate the room like nothing else does. Putting up pretty showpieces makes your room have a more positive vibe. If you're thinking of adding a new showpiece to the room, go for a DIY showpiece. You can reform a wooden piece into a beautiful showpiece just by carving and painting it. The best part is that all the items needed for DIY can be easily found at home, so there's no need for much effort in finding these items.
Clean and Repaint Your Fireplace
Isn't it been a long time since you really did a makeover on your fireplace? Fireplaces are one of the prettiest things that can be added to a room. If your living room has a fireplace and you want to revamp your living space, go for a fireplace cleanup and makeover. Clean up all the dust and ashes from your fireplace, get a box of paint, do your thing with the brushes, and there you go!
Customise Your Closet
There comes a time when your clothes start taking up more space than you expected and your closet gets filled up to the maximum capacity. Freeing up some closet space or making up some space on your own is another DIY home project that you should definitely try. You can easily customize your closet by adding a rod on the higher part so you can hang more clothes, or add a board according to your closet's size to create storage.
Reform Your Key Holder
Key holders don't get a lot of attention when you think of redecorating. Keyholders can be easily made or reformed as a part of DIY home projects. You can paint your old key holder in a new color, or put stickers or little sticky notes to make it look less dull. The sticky notes can also be helpful in remembering things when you're going out or coming back home because the first thing you go to is the key holder at both times!
DIY home projects may need some things that are more expensive than usual, but with online deals and discounts, this isn't a cause of worry anymore. You can get affordable items and redecorate your home with just one click with online shopping. Stores like Michaels, Joanne, Hobby Lobby, etc, have the best DIY supplies and they also enable their customers to save more by giving out coupons and discounts. With DIY supplies being more budget-friendly than ever, doing these DIY home projects is the best viable option to make your weekend interesting and more engaging!