Boris Becker is a former professional tennis player and current tennis coach. He became the youngest Wimbledon champion in 1985, although his record would only stand for four years. He was a popular figure in the sport throughout the 1980s and 1990s and attracted a lot of media attention because of his multiple relationships with models and actresses. Boris has remained in the spotlight since retiring from tennis, working as both a tennis coach and a commentator.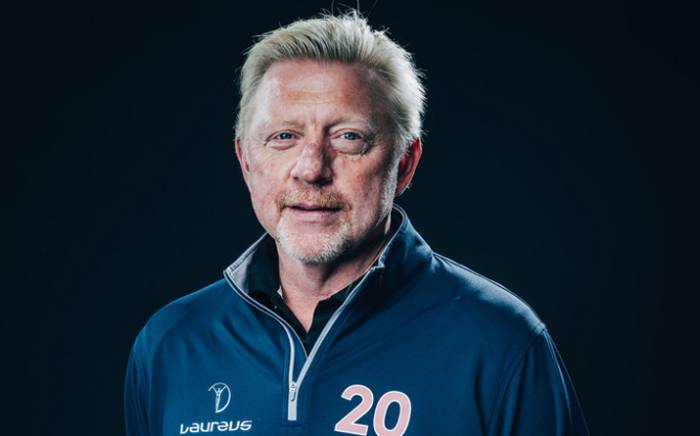 Birth Name
Boris Becker
Nickname
Boris
Profession
Former Professional Tennis Player, Entrepreneur
Plays 
Right-Handed (One-Handed Backhand)
Coaches
Boris Becker has had six coaches during his career as a professional tennis player, these were:
Ion Țiriac
Günther Bosch
Bob Brett
Mike Depalmer, Jr.
Günter Bresnik
Nick Bollettieri
Nationality
German
Personal Life
Birthday / Date of Birth / Place of Birth
Boris Becker was born on the 22nd of November 1967, in Leimen, Germany.
Age
He is currently 55 years old.
Residence
London, England, United Kingdom
Sun Sign
Sagittarius
Ethnicity
White
Education
Boris attended Helmholtz-Gymnasium in Heidelberg, Germany.
Family Details
Father – Karl-Heinz Becker
Mother – Elvira Becker
Becker's father, Karl-Heinz Becker, was an architect. He also founded a tennis club known as Blau-Weiss Tennisklub in their hometown. It was here that Boris learned to play, and where he fell in love with the sport.
Marital Status
Becker has been divorced twice and has had several other relationships.
Girlfriend / Spouse
Boris Becker has dated –
Barbara Feltus (1993-2001) – Becker was married to Barabara Feltus, a German-American designer and former model and actress. They married on 17th December 1993 when Barbara was eight months pregnant. They tied the knot in a registry office in Boris' home town of Leimen. However, they divorced on 15th January 2001, with Barabara receiving a $14.4 million settlement and their home on Fisher Island in Florida.
Alessandra Meyer-Wolden – Boris has since had several relationships, including one with a Russian Waitress that overlapped with his marriage to Barbara. He was also engaged to Alessandra Meyer-Wolden for a few months in 2008, but they broke up that same year.
Lilly Kerssenberg (2009-2018) – In June 2009, Boris married Dutch model Sharlely Kerssenberg but also separated in 2018. They have a son named Amadeus Benedict Edley Luis Becker (b. February 10, 2010).
Layla Powell (2019) – There have been reports that he has been dating Layla Powell, a model from the United Kingdom.
Physical Statistics
Height
In feet – 6 feet 3 inches
In centimeters – 191 cm
In meters – 1.91 m
Weight
In Kilograms – 85 kg
In Pounds – 187 pounds
Build / Body Type
Boris Becker has an Athletic Build
Eye Color
His Eyes are Blue
Hair Color
Boris Becker has Blonde Hair
Shoe Size
11.5 US
Sexuality
Straight
Boris Becker Career Statistics
Highest Tennis Ranking
Becker was ranked the number 1 tennis player in the world on 28th January 1991.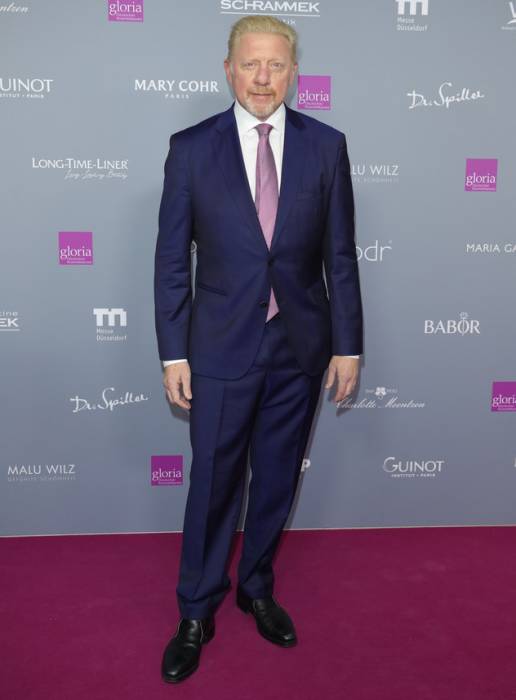 Career Titles
Boris won 49 titles during his playing career.
Grand Slams Singles
Boris Becker has won 6 Grand Slam Singles  titles:
Australian Open: 1991, 19996
Wimbledon: 1985, 1986, 1989
US Open: 1989
He did not manage to win the French Open, only making it to the semi-final on three occasions.
Brand Endorsements
Becker has done endorsement work for brands like, Puma racquets & Estusa racquets.
Boris Becker Career History
Boris Becker began his professional tennis career with a bang when he won at Wimbledon in his first year playing in international tournaments. His powerful serves and aggressive playing style meant that he could overpower his rivals, despite the lack of experience in Grand Slam tournaments.
Becker eventually retired from the sport in 1999, after winning 49 singles and 15 doubles titles. He was later entered into the International Tennis Hall of Fame in 2003 in recognition of his greatness. He plays occasionally, with appearances in the senior tour and World Team Tennis.
One sport isn't enough for him, though. In addition to his tennis, Becker now regularly takes part in poker tournaments, including the WPT. He has earned more than $100,000 from live tournaments, with his single biggest win being just over $40,000.
He hasn't walked away from tennis completely either as Becker now works as a tennis coach. Between 2013 and 2016, he worked with Novak Djokovic, helping him to secure six Grand Slam wins during that time.
He has also worked as a TV commentator for the BBC's coverage of the Wimbledon Championship and for Eurosport.
Outside of sport, Becker has used some of his winnings to invest in other businesses. This saw him invest in three Mercedes dealerships, as well as a Chinese tennis academy, Nigerian oil and gas, and the failed "Boris Becker Business Tower" in Dubai. He was declared bankrupt by a London court in 2014.
His financial worries have not been helped by his spending habits, which include £1,000 restaurant bills, and regular business and first-class flights with his family. In 2019, some of his trophies and around 80 other items were sold at auction to help pay back the money he owed to his creditors.
Becker has the ever common story of rising to fame and then falling back down again, although don't expect bankruptcy and the auction of his assets to be the end for Becker.
Boris Becker Net Worth
Boris Becker has a net worth of approximately $10 million. However, he has been declared bankrupt so that this figure could be disputed. During his playing career, he earned more than $25 million, making him the 12th all-time highest-earning player in tennis. However, his first divorce from Barbara Becker cost him just over half this figure, creating a significant dent in his net worth. Costly business investments and a lavish lifestyle have also eaten into his cash.
Social Media Profiles
Some Lesser Known Facts About Boris Becker
His earliest memory was holding a tennis racket at the age of 3.
He is happiest when he is with his family.
His greatest fear is the thought of losing family members.
If he could have a superpower, it would be the ability to make the world a better place.
The one feature that he most dislikes about his appearance is his crooked nose.
His guiltiest pleasure is whiskey and a cigar after a long day.
At the age of 17, he became the first unseeded player to win Wimbledon Singles final in 1985.
He would invite Sofia Vergara, Bill Clinton and Angelina Jolie to his dream dinner party.
His biggest disappointment has been not winning any French Open championship.
If he could edit his past, he would want a chance at winning the French Open.
If he could go back in time, he would go back to times where there were no cars and people rode horse carriages.
He considers being a father to a beautiful family and winning Wimbledon as his greatest achievement.
In 1989, the ATP and the ITF voted him the Player of the Year.
On June 25, 1999, Boris retired from competitive tennis.
In 2000, he became the principal owner of the tennis division of Völkl Inc.
Boris has coached Novak Djokovic for 3 years, starting on December 2013.