In modern medicine, electronic health records (EHRs) are widely used in healthcare facilities, especially in developed countries. They help to improve the quality of medical services and ensure patient-centered care. That is why leading healthcare software development companies regard EHR solutions as their top priority. In this article, we'll outline the benefits of implementing EHRs in hospitals and clinics.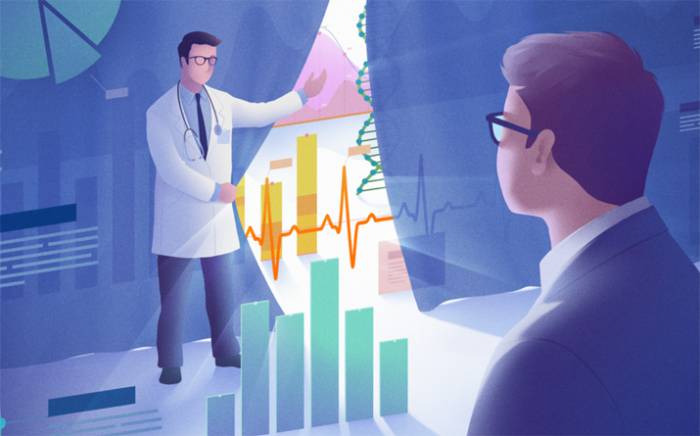 EHR vs. EMR: What is the Difference?
The terms Electronic Health Record (EHR) and Electronic Medical Record (EMR) are often applied as synonyms. It may be confusing because there are significant differences. An electronic medical record is a copy of a regular paper patient's chart storing information based on a single patient case. A doctor enters relevant information on the peculiarities of treatment and medication, etc. An EMR is kept at a certain healthcare facility and doesn't get shared with others.
An electronic health record, in its turn, is a broader idea. Typically, it includes general information on a patient's health as well as details of previous diseases and treatment plans. Unlike EMRs, EHRs are easily shared between hospitals, laboratories, drugstores, and other healthcare institutions, which serves the purpose of convenience and responsiveness. For instance, if a patient in an emergency ward needs urgent intervention, any clinic may request their EHR with relevant data concerning overall health status, chronic diseases, allergies, etc. to promptly define the most appropriate treatment.
EHR Implementation Advantages 
Any healthcare facility strives to optimize the workflow. Implementing an EHR system is a good idea as it enhances the efficiency and safety of services and improves the doctor-patient relationship.
Comprehensive Information
An EHRs is a perfect depository of a patient's health data. Here doctors can find a detailed description of previous cases and treatment plans, medical histories, lists of chronic diseases, genetic predispositions, allergies and vaccinations, laboratory results, X-rays, and so on. In addition to all this, EHRs store demographic and social data, and health insurance details. Thus, EHRs provide specialists with all necessary information.
Accessibility and Coordination
Doctors can access EHRs from any clinic and any device. It is crucially important if a patient gets into a hospital far away from his/her place of residence (for example, after an accident, or a sudden heart attack somewhere in the street). Emergency medical specialists don't need to waste time requesting key health details from attending physicians because all the necessary information is at hand.
EHRs have embedded eRx functionality, which is especially useful during the ongoing pandemic. A patient obtains an electronic prescription without the risk of contracting COVID-19 and sends it to a pharmacy. When the order is ready, s/he gets a notification and can easily collect the necessary medication.
Nowadays, more and more people opt for making appointments online. That is why a typical EHR system has an appointment scheduler, which is very convenient when viewing doctors' schedules and booking visits. Moreover, it has an integrated calendar with all the scheduled procedures. Notifications will keep patients informed and thus prevent them from no-shows.
With EHRs, doctors are likely to make fewer mistakes. If healthcare professionals get access to a comprehensive picture of their patient's health, they decide on the correct treatment. Many patients suffer from various diseases, and in such cases choosing an efficient treatment strategy is challenging. Specialists must understand what medical procedures may be inappropriate or even dangerous for this or that patient. Certain drugs should not be taken together. Medical workers must be aware of the overall situation, and not just treat one condition only.
Population Health Assessment
An EHR system is a useful tool for data analysis. Doctors can monitor population health and thus control the pandemic, offer a vaccination program, warn patients with chronic diseases about scheduled screenings, etc.
Introducing EHRs will help to cut expenses on paper medical records, duplicate testing, printouts of laboratory tests, X-rays copies, etc.
Conclusion
An EHR system significantly enhances the productivity of a medical institution and improves work-life balance. That is why it is necessary to implement them in modern clinics and hospitals. When considering this innovation in your healthcare facility, it is worth cooperating with IT companies engaged in custom healthcare software development. Such a technological partner will take into account all the requirements and develop an efficient EHR system that will be useful for both doctors and patients.