As we fast approach the new year and with the state of current business climate in such an uncertain and transitional period, it is a time for consideration of strategy and approach.

In adversity a business can either sink or swim. This will depend on many factors and vary from industry to industry. But what it will also depend on is the character and mindset of the directors, management and overall team ethic of the employees to overcome severe challenging circumstances.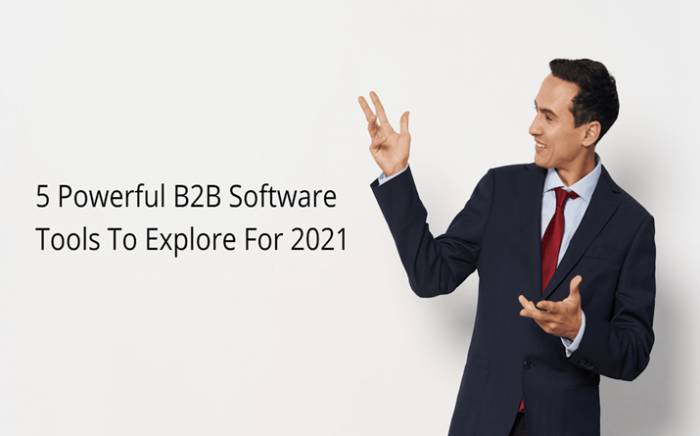 Covid-19 has taken its toll in so many different ways, but one thing that is for sure is that it has exposed many businesses, company structures and working conditions which were in-fact irrelevant, a measure of control or extremely fragile beneath the surface.

With a short time for trading remaining this year, threat of lockdowns, working from home a prominent factor and Christmas wind-down inevitable, it may be a chance to re-evaluate some of the vanity processes and streamline for a strong start to 2021.

This includes operations and with digital work being so fundamental in the pandemic, there are many ways your business can take the steps to becoming more powerful in an online sphere throughout the core areas of your business. Including marketing, sales, research, audience insights and trends, or simply in-house communication.

Here we explore 5 B2B software tools you can look to involve in your day-to-day business activity next year.

Ahrefs

This is a software which is amazing for analysing Search Engine Optimization (SEO) performance or new campaigns.

Within a domain search of your own, or a competitor website you can see the full breakdown of backlinks and referring domain quality. It can open pathways for making your own key pages far more visible and increase traffic with buyer-intended click-through.

SEO requires a lot of work around the information you can get from Ahrefs, including keyword search volume and competitiveness, but you will be equipped to map out your content plan for 2021 and exceed your organic traffic growth targets.

Unbounce

If you are operating with flexible campaigns through the month and want to test and experiment with website page layouts, formats, designs and styles – then Unbounce can give you the freedom to do so.

With a simple drop and drag functionality it is really easy to construct attractive and effective landing pages for social media campaigns or paid advertising segments. Using the A/B test option you will know which is the best of your templates for a stronger conversion to your goal.

Website Visitor Tracking

As a B2B business, it is essential that you are maximising the potential of every single relevant website visit in order to generate enough leads to achieve the level of growth for 2021 in such an unknown era for business and audience acquisition spend.

The process involves a reverse IP Tracking system using Static IP addresses to attach to business sessions. Therefore you can know that xyz business is visiting instead of a generic or personal router connection.

Knowing xyz business has visited your pricing page or service contact information for a specific amount of time or with a return visit is an unbelievable indicator of intent which before would go unactioned. But in 2021 you can identify these businesses and get a brilliant return on investment using lead forensics alternatives, and pass qualified leads to your sales department and add context.

MixMax

Email marketing will give you a chance to boost your lead generation capabilities in 2021 and using a service such as MixMas allows you to build fantastic cadences with automated sends and useful dashboard analytical reports.

It is a flexible tool for creating mini or substantial email marketing sends based on your intentions with integrations for all of the business CRM requirements. You can import data seamlessly to add a personal touch and keep your open and response rates as high as possible – maintaining a solid pipeline.

Hootsuite

A software which comes in extremely useful when looking to share social media content at scale is Hootsuite. It allows you to compound all of the business accounts to distribute content through each platform in its required format.

Saving templates and allowing extreme flexibility in managing creative content campaigns. Being visible on social in an organic capacity is not easy anymore, especially for b2b companies. But a scheduling tool will give you the strongest chance to generate click through from potential customers with consistency and attention to the details.