Giving an eternity ring symbolizes your eternal love, unity, and commitment. Eternity rings are typically given to mark a personal achievement, special anniversary, or relationship milestone, like the birth of a baby. Looking at the band on your finger can remind you of the memory. An eternity ring features gemstones or diamonds set within a band that goes all around the finger. The band's shape symbolizes everlasting love because a circle doesn't have a beginning or an end.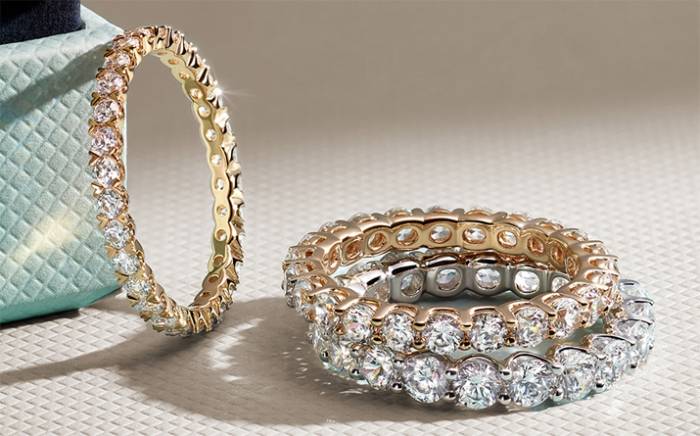 Eternity Rings for Anniversaries
Eternity rings are a popular gift for wedding anniversaries because they're a meaningful gesture of love–like engagement rings and wedding bands. It's a loving gift because it is worn as a constant reminder of the everlasting love and devotion. Every time you glance at your ring, you'll be reminded of the special anniversary associated with your gift. Like the love in your relationship and your commitment to one another, a ring doesn't have a beginning or an end. This is one reason why rings make ideal anniversary gifts!
Personal Achievements and Eternity Rings
Beyond anniversaries, there are plenty of other personal achievements that can be celebrated by giving an eternity ring (or purchasing one for yourself). Consider a band to celebrate a career promotion, educational accomplishment (degree, certification) or personal growth milestones (running your first marathon, publishing a book, defending your dissertation). Gifting yourself a ring is a way to honor your self-love and self-celebration. Why not celebrate you and your accomplishments with an eternity ring?
Choosing the Right Eternity Ring
Eternity rings continue to gain popularity, and there are a variety of designs available whether you're buying a ring to celebrate yourself or someone else. You'll find customizable design options including gemstone types, shapes, and color choices. In terms of styles, there are rings that have stones all around the band and then some that are only halfway around. Half eternity bands are typically easiest to clean because there are less gemstones for grime to hide behind.
You have numerous stone options including earth-mined diamonds, lab-created diamonds, and gemstones. Diamonds continue to be the most popular choice for eternity bands and symbolize everlasting love. Lab-made diamonds continue to gain popularity because of their affordability and eco-friendliness. You can also find eternity rings embellished with colorful gemstones. Select stones based on symbolism, birthstones, favorite color, or the overall look of the ring. Some eternity bands feature a mixture of diamonds and colorful gemstones.
The final design option you have is the gemstone shape, and this one is important because it can affect the overall look of the ring. Popular gemstone shapes include round, princess, cushion, and emerald, but round continues to be the most popular.
The type of stones, metal choices, and size of the band will impact the overall ring price. For example, a platinum eternity band would cost more than a 14K white gold ring. Similarly, natural diamonds will cost more than lab-created diamonds. With so many available options, you'll be able to find a ring in your budget.
You can also make the ring even more special by having it engraved if your ring is suitable for it. Perhaps a hidden message that mentions the milestone you're celebrating (the anniversary, child's name, etc.) or a special message to yourself (mantra, 26.2 for your marathon, or PhD for your doctorate). It's a special way to personalize your ring whether it's for yourself or someone else.
Closing Thoughts
Eternity bands are gorgeous, and they're a meaningful way to mark a special occasion. Rings don't have a beginning or an end, which symbolizes everlasting love, unity, and commitment. Gifting a ring can celebrate a special anniversary or a personal achievement, and it can be a gift for someone else or a self-love gift for yourself. While diamond eternity bands are the most popular, you have plenty of options to make the ring unique.
The lab or natural diamonds or gemstones can go all the way around the ring or halfway around. You can select the size of the gemstones, the type of stones (diamonds, gemstones, or both), and the metal (platinum or rose, white, yellow gold). Finally, you can select to have the band engraved