It's finally that time of the year, where you can stop looking like a walking pile of coats and start looking like the fashionista that you truly are: summer is here!, and that means you're bringing all your cute summer dresses out of hibernation, and possibly even shopping for a new wardrobe.
Dresses are light, airy, and effortlessly feminine, and also incredibly versatile. They're perfect for the beach, for garden picnics, for brunch with the girls, and even date night with your man.  But no summer dress is complete without the perfect accessories – and we've got a list of the best items to elevate your summer dress style.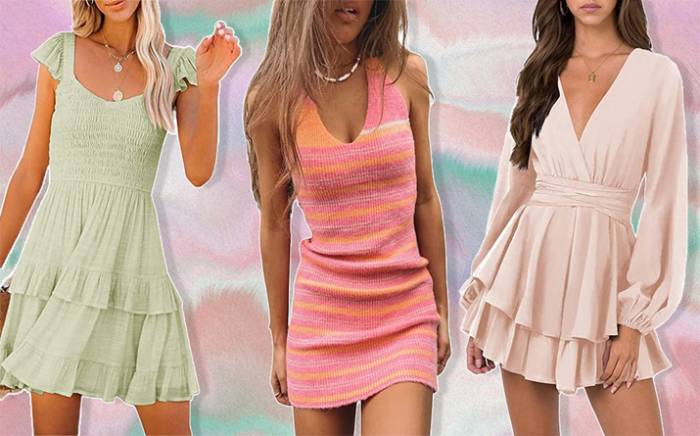 When you think of accessories, the first thing that comes to mind is jewelry. And summer is the perfect time to make a bold statement – just add a cute piece that transforms your simple summer dress into a statement outfit.
When pairing jewelry with your summer dress, it's important to make sure that your jewelry matches, or at least that all the pieces complement each other. So if you're going for a gold necklace, consider adding a gold anklet or a delicate gold necklace. If you're going for bold, stand-out pieces, try a statement necklace and a sparkling, oversized cocktail ring in the same color. Or best of all, customize jewelry for yourself to create a perfect, personalized set.
It's very important to think about the cut of your outfit. For example, if you're wearing a low neckline, think – oversized pendants, layered chains or an eye-catching choker. If you're baring your toned and tanned arms, consider chunky bracelets. Showing off your midriff ? A chain around the neck or belly button ring can be perfect for showing off your beach-body ready abs you've been working on all winter !
Another great thing about accessorizing in the summer is that you'll have access to a whole range of footwear beyond the boots and close toed shoes you've been stomping around in all winter.
Instead, you'll be able to choose from flip-flops, sandals, super summery espadrilles or even just a classic pair of pumps. When it comes to picking your shoes, it's as much about function as it is about fashion. For example, if you're going to a party and want to go for a feminine yet casual look, consider a pair of espadrilles, which give you the extra height – and extra confidence – of wearing heels, but the casual vibe and comfort of sandals.
If you'd like to "dress up" rather than dress down your summer dress for a more sophisticated look, go for a pair of classic high heels, perhaps in a bright vibrant color to reflect the summer fun vibe. If you plan to wear your summer dress for a long walk through the city, comfort will be your top priority – in this case you'll likely want to opt for flats, such as a pair of elegant sandals, or even some cute high top sneakers. And if you're wearing your summer dress to the beach, it's a no brainer – flip flops are definitely the way to go!
The last must have accessory to complete a summer dress outfit is as much about protecting your health as it is about looking good. While we love the summer sun, it becomes especially important to protect the delicate skin on your face from UV rays- and that means a good, timeless hat.
For the elegant vibe of a summer dress, a wide-brimmed, floppy hat is the ultimate compliment. But you can also get creative with different types of hats, depending on the vibe you're going for. For example, if you're wearing a more sporty dress, such as a tennis summer dress, consider a simple baseball hat for a more athletic vibe. If your dress is ultra casual, an ultra versatile bucket hat will be a perfect match for your outfit.
Conclusion
If your summer dress is sophisticated, there's no better way to add an extra touch of luxury to your outfit than a pillbox hat such as those made famous by fashion royalty Jacqueline Kennedy or more recently, real royalty like Kate Middleton.