Several types of golf trolley exist today – from compact-folding push trolleys that fit neatly in the boot of your car to pull trolleys that are easy to pull along on flat courses. Not to mention a host of electric models that are really easy to use and can reduce muscular fatigue. Yet, despite this, many golfers refrain from purchasing a trolley and opt to carry their golf equipment on their shoulder(s) instead.
Of course, there's no right or wrong answer as to how you should transport your golf bag across the links. It simply depends on what works best for you.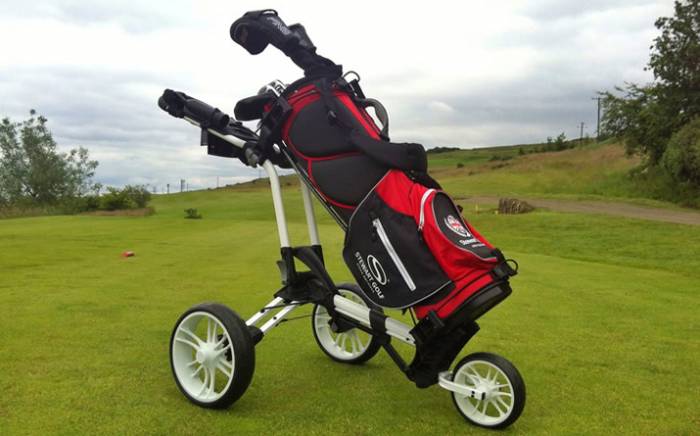 With that said, we thought we'd outline a few of the advantages and disadvantages of carrying your clubs and using golf trolleys – like the ones available at Clarkes' Golf Centre. So, whether you've been toying with the idea of investing in a trolley for a while, or you won't be easily persuaded to ditch your trusty golf bag, read on to find out more.
Carrying
If you're visiting the range to get some last-minute practice in or playing a quick 9 holes, you may find it easier to carry your golf clubs and essential kit – and that's perfectly fine. Let's face it, by the time you've swapped into your golf shoes, lifted your golf trolley out of the boot and set it up, you could be onto the second or third hole!
However, one of the biggest drawbacks of carrying your golf bag is that it puts a lot of strain on your upper body which, in turn, could result in injury. Think about it. You easily walk 8-10km in a standard game of golf. Add to that the fact you'll be carrying a set of 14 golf clubs (and god knows what else!) on your back or shoulder, and you'll be exhausted before you've even reached the final hole.
Plus, carrying a bag in the rain can be extremely frustrating as you've no option but to put it down on the wet grass – meaning it, and you, will end up soaked.
Manual Golf Trolleys
Exactly as their name implies, push and pull golf trolleys are manually powered – with push trolleys being 'pushed' across the links and, you guessed it, pull trolleys being 'pulled'.
Whilst both are incredibly easy to operate and carry the weight of your golf equipment so you don't have to, the main difference lies in the wheels. Typically, pull trolleys have two wheels whilst push trolleys have an extra wheel (or two) so you can push it with ease – no matter what the terrain is like.
Push trolleys tend to be the most popular of the two as it's less taxing on the shoulder muscles than lugging the weight of a trolley behind you – especially on undulating courses. However, if the course is relatively flat, a pull trolley is just as good as any other and won't put too much strain on the body.
Here are just a few ways golf trolleys like these can benefit you and your game:
Perfect for flat courses.
Affordably priced.
Compact when folded.
Easy to set up.
No batteries required.
Extra features (i.e. foot brakes, umbrella holders, drink holders).
The only downside to manual trolleys is that they are best suited to smaller cart bags and, there's no denying, it can get tiring pushing/pulling your kit for the entire 18 or 36 holes!
Electric Golf Trolleys
If you're sick and tired of carrying your clubs, or you've lost count of how many times you've had to get your breath back after pushing your trolley to the top of a steep slope, then an electric golf trolley could be just what you need.
Unlike the aforementioned golf trolleys, these use batteries to power them around the course – taking the strain off your back, shoulders and knees. What's more, some models can be controlled via a remote so you can preserve your energy for hitting your best round out on the course. Convenient, right?
Though these are the most expensive type of golf trolley you can buy, and often heavy and bulky due to having a battery, there are countless other reasons why you should consider investing in one. These include:
Great on hilly courses.
More storage space.
Battery-powered (18 or 36 hole lithium battery included).
No added strain on the body.
Save your energy for swings.
Additional features like GPS, Downhill Control (DHC), widescreen full-colour display, over 40,000 courses pre-loaded, etc.
To Buy or Not to Buy a Golf Trolley
You should now know a little bit more about the different ways in which you can transport your golf gear across the links.
Will you be swapping to a golf trolley or sticking with your reliable golf bag? Or maybe, after reading this blog, you've decided it's time to take the plunge and replace your manual trolley for an electric model?
Whatever you decide, you're sure to find what you need at Clarkes' Golf Centre. They offer an extensive range of golf trolleys – both manual and electric from leading manufacturers, Axglo, BigMax, PowaKaddy and Motocaddy. Plus, they offer a variety of bags, including cart bags, stand bags, tour bags, and more.