As summer fades into autumn, the air turns cold to remind you of the changes needed to be made to your summer garden. The winter season, especially in areas that experience heavy snowfall, requires precise floral arrangements. If you are dedicated to gardening, it is pretty clear that concerns associated with protecting plants and soil is a must. However, there shouldn't be any blockage to the gardening work that involves digging and growing!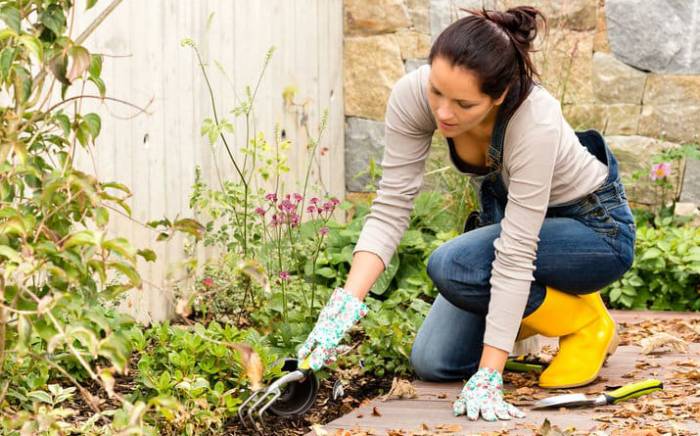 Below are some of the critical fall gardening tips you can follow to keep your garden alive during the cold season.
Cleaning Up Old Leaves
Some gardeners prefer to leave the plant beds as it is. They don't stop plants' rotting as they decay and further nourish the soil during the winter season. This is the general approach but not the right approach. Cleaning up in fall is the right way to maintain the health of your garden. You need not wait for spring to do this job but be smart to collect the green waste and use it as compost. Furthermore, this is the correct time to avoid plant diseases and not carry forward them until the blooming season.
Watering Pattern
Since the cold season brings in moisture, watering your garden needs to be restricted. Make sure you do not completely stop watering your plants, but switch to a weekly watering pattern. Make sure the water reaches the plant roots and does not collect at the soil surface.
Fertilizing
As recommended by gardening experts, fertilization of your home garden during fall is a good idea. It is because a single fertilization cycle during this time can ensure wonderful flowers during spring. You must select a slow-release fertilizer to ensure steady growth during the winter season.
Repotting Activity
"Believe it or not, but fall is a suitable time for you to repot your houseplants. You can introduce new soil and permit fresh root growth to uplift plant health throughout the winter season. " says Vinni from Abana Homes – A Bonsai Plants Online retailer in South East Asia.
Safeguard Seeds
For a true gardening enthusiast, understanding the importance of heirloom seeds is quite essential. These are indeed free resources that shouldn't be ignored. For instance, whenever you slice a tomato, do not forget to save the seeds. The same can be followed for ladyfinger pods; save the seeds right before throwing them in the compost. You can later plant these seeds using seed tapes.
Cold-Weather Protection
Your garden surely needs better protection methods during colder temperatures. It is essential to upkeep the quality of soil during the fall season by following the below-mentioned tips:
Prefer a layer of mulch for safeguarding roots and bulbs from frost.
Dig the organic compost beneath the soil; make sure to utilize the mild-winter areas for digging the soft soil.
Try building tunnels right over the vegetable rows; this helps in the early sowing of seeds as the winter hits.
Make use of fabric coverings for protecting perennials from frost.
FAQs
Ques 1. What all plants are perfect to be grown during the fall season?
Ans: You can prefer growing Asters, Kale, Pansies, Cyclamen, Chrysanthemums, and several varieties of Bonsai Tree such as Acer Buergerianum, Zelkova Serrata, and Fagus crenata.
Ques 2. Which all vegetables can you grow in your garden during fall?
Ans: If you are switching from plants to vegetables for your home garden during fall weather, there is a particular category of veggies you should prefer. Some of these are:
Carrots
Beets
Brussel Sprouts
Cabbage
Cauliflower
Spinach
Ques 3. Do crops last longer during the fall season?
Ans: It is essential to understand that fall and winter gardening is slightly inclined towards vegetable gardening. Especially during the fall season, the cold temperature allows crops to survive longer in your garden post maturing. For example, crops like cabbage, kale, and broccoli can stay in the garden for months after hitting maturity. Moreover, several fast-growing crops such as cilantro, spinach, and lettuce can retain their quality for a much longer duration.
Ques 4. How to protect Bonsai plants in winter?
Ans: Bonsai trees during winter are subjected to colder temperatures below 15 °F. Since their roots run too deep in the soil, they have little or no trouble coping with freezing temperatures. However, Bonsai, which is planted in shallow containers, require additional shielding in winter.
You can keep the Indoor Bonsai plants in a greenhouse; this is useful when living in an icy region. On the other hand, you can also use styrofoam covers wrapped around the pots for safeguarding the roots.
Ques 5. When should one clean the garden in fall?
After your annual plants turn brown, and die, you can commence the cleaning of the garden for autumn. If you timely prepare your vegetable and the plant garden for winter, it will ensure that your garden and the plants stay in the best of their health in several years to come. This annual cleaning should not be omitted.