Need to know what's on and where to watch movies or tv shows? We've got the perfect platform recommendation for that. Find movies and TV shows to watch, create a curated watch list and receive updates on your favorite content on streaming platforms. Make movie and show streaming easier with OTT Watchlist.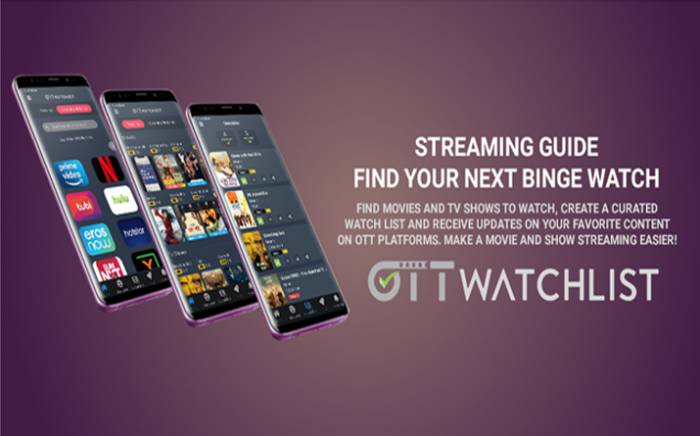 We live in an era of streaming services with the likes of Netflix, Amazon Prime, and Hulu leading the pack, and it is common to hear people complain about missing shows or episodes. There's a lot of tv shows to watch with new episodes airing every day and some shows getting slashed, it's hard to keep track of all your TV shows and adding new ones to your list. OTT Watchlist is a Movie & TV Series tracker designed to make sure you're up-to-speed with the TV shows you watch and even notify you for new episodes.
Stay on top of the release schedule with our movie tracker app that lets you track your watched TV shows and movies, keep an eye on new releases, recommendations on new TV shows, and manage the media collection. OTT watchlist features a slick UI and packs plenty of functions like custom lists, comments, and detailed reviews. The OTT watchlist application available for android and IOS gives you all the features of OTT watchlist and real-time market updates on-the-go at your fingertips. OTT Watchlist gives you;
Exhaustive catalog of tv shows, movies, and favorite actors/actresses.
Find new movie recommendations to add in your watch list.
Track and monitor your current watchlist and ongoing episodes.
Custom library of previously watched shows.
Create a to do movies list specifying all the content to watch later.
Personalized recommendations based on previous watchlists.
Critics tab to rate and vote on episodes and shows.
Find a carefully curated list of top 50 or 100 all-time must-watch movies.
Comments, read reviews, and buzz feed on the vine.
After credits with quizzes, memes, polls, articles, and podcasts.
Streaming updates on new movies releases and episodes updated.
So, Why Choose the OTT Watchlist?

Streaming (OTT) Platforms
Keep up with currently streaming content on OTT streaming platforms like Amazon, Hulu, Netflix, Disney+, and many more. Advanced filters and search algorithms let you browse by platform, and apply filters based on language, genre, etc. save time, watch better with personalized to-do movies and TV shows
Streaming (OTT) Updates
Notifications of new arrivals on OTT updates complete with premiere dates and times so you never miss a moment. Create a personal watchlist of shows and movies before they air with streaming dates and upcoming releases categorized by genre and streaming platforms.
Kids
Whole family entertainment with the hottest and latest Kids TV shows, Kids Movies, and cartoons. GE and PG-rated films certified adult-free content and child-friendly show material. The parental controls give you the peace of mind knowing that all your TV shows are tucked away safely.
MustWatch
A one-stop-shop for carefully curated content featuring the top 50 or 100 TV shows of all time, timeless masterpieces, and all-time favorite shows, and top 100 movies and TV shows recommendations across multiple languages based on your personal preferences. Get in-depth analysis and critics of your favorite TV shows while tracking your current shows and viewing progress.
MyWatchList
A comprehensive list of previously watched TV shows, movies, and episodes and your current watching progress. Create a personal to-do list of Tv shows, movies, and upcoming releases and look back at your last viewed episodes. Compare and match Movie recommendations, upcoming Tv shows, and new premieres according to statistics, reviews, and ratings of each.
Articles
Keep up to speed with articles, unbiased reviews, and rumors about recommended, TV shows. MustWatch movies, entertainment news, and any other relevant information about your favorite episodes of any TV show and Movies on OTT streaming service.
Are you ready to make movie or TV shows hunting easier for your next streaming session? These amazing Movies & TV Shows watch list app is a great option for you. Download and use OTT Watchlist – TV Series & Movie Tracker today!
OTT Watchlist – Streaming Guide. Available for Android, iOS devices and web users. So, what do you waiting for? Make your streaming experience worth with @ottwatchlist.com.