Can you earn money online in 2022? Yes, you can, but doing this isn't as simple as some people make it out to be. And if you're looking to make money online and wondering about the best ways you can do it, look no further: this article is a comprehensive guide on the different ways you can realize this dream. These are tried and accurate methods that many individuals have used to earn themselves money.
Without further ado, here are some of the best ways you can start earning money online in 2022. The best part is you can be your own boss without sacrificing the balance between work, family, and friends. Let's get started.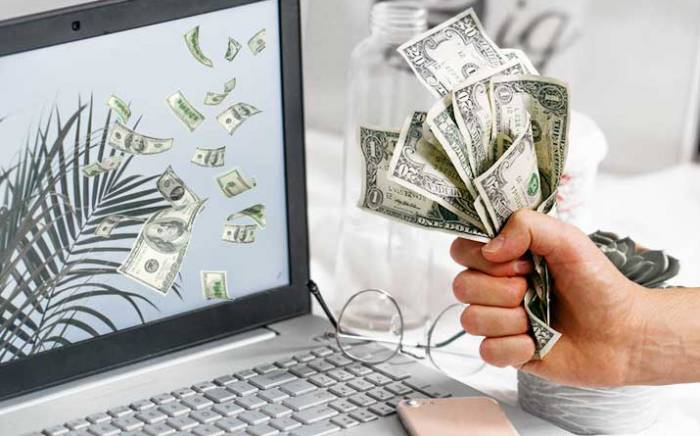 #1. Honeygain
You can start to earn money online by using the Honeygain app that can be installed on different gadgets, from your smartphone to your computer. The best part is you can start earning free money after quickly finishing the setup process, which takes around 3 to 5 minutes. Honeygain works by using your unused internet bandwidth, and you consequently get paid for that. You shouldn't worry about the Honeygain app accessing and sharing personal information thanks to some of its features such as:
Full encryption of all the connections.
Locked access to your storage.
An option to choose how much bandwidth to sell each day.
For every 10MB of traffic, you'll earn 3 credits which translate to $3 per 10GB. You can also boost your earnings by taking advantage of the referral program, Lucky Pot lottery, and Content Delivery (CD). The available payment options include Bitcoin, PayPal, and JumpToken. You're required to reach the minimum payout of $20 to get paid (unless you're using the JumpTask mode).
#2. Become a Tutor
Another great way to earn money online that you should consider is being a tutor. It allows you to teach a subject (or multiple) you have immense knowledge on and, in the process, earn some money. And with the number of students involved in online tutoring exploding, this side hustle has immense potential. This is because of the number of students looking for help, especially now when the level of remote learning is constantly rising.
As a tutor, you can choose to charge either per hour or per session and eventually earn hundreds of dollars by the end of the month. There are different platforms where you can advertise yourself to find students, including Craigslist, Facebook, and Reddit.
#3. Start Earning as a Social Media Influencer
Social media has transformed today's society, creating an earning potential for influencers specializing in specific niches. This money-making option isn't only meant for traditional media celebrities but also content creators and industry experts. Therefore, don't miss out on the benefits of this lucrative side hustle just because you aren't famous – instead, start to earn money online. If you love spending your time on social media platforms such as Instagram, Facebook, or TikTok, why not get paid for it?
As an influencer, you can start earning money through advertisements and sponsorships. But to succeed in this highly competitive space, there are a couple of steps you need to follow, and these are:
Find a niche you have expertise in or love and start to create content that can capture your target audience's attention.
Choose your preferred social media platform – the ideal choice depends on your target demographics and content type.
Come up with an appropriate content marketing strategy that allows constant engagement with your target audience.
Begin to network with other influencers and propose your services to brands to land collaboration and partnership deals.
By implementing these steps, you'll be one step closer to earning money online, moving towards becoming financially independent as a social media influencer and monetizing your social media presence.
#4. Become a Virtual Assistant
Another way you can earn money online is by becoming a virtual assistant, and this method is ideal if you enjoy working with people but don't want to leave the comfort of your home. As a virtual assistant, your duties include scheduling appointments, making phone calls, organizing trips and events, and answering emails. Your client can better focus on other issues that bring greater value to their business by having you handle these duties.
The demand for virtual assistants has skyrocketed ever since the coronavirus pandemic, with a growing number of businesses preferring remote workers to help them with their routine office duties. You should expect to earn $8 per hour as an entry-level virtual assistant, but this can further rise up to $62 per hour with more experience.
Takeaway
There are many opportunities on the internet that you can take advantage of and start to earn money using. This can help you with expensive purchases or settling your debts. Finding out the best ways to earn money online isn't easy, but with the new knowledge outlined in this guide, you can now identify the best option based on your experience and skills.