Prom season is just around the corner, and every girl wants to find the perfect dress that will make her feel like a goddess. But with so many options out there, it can be overwhelming to choose which style suits you best. That's where your zodiac sign comes in!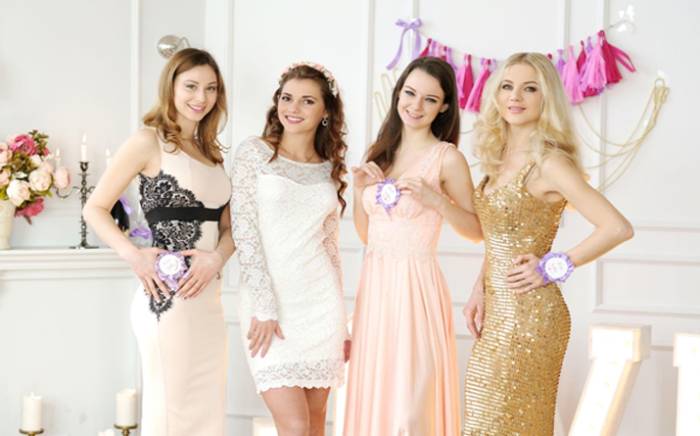 By looking at the stars, we've created a guide to help you find your perfect prom aesthetic – whether you're bold and beautiful like an Aries or prefer pretty prints like a Taurus. So, kick back, relax, and let your astrological sign lead the way to find the prom dress of your dreams!
Aries: The Bold and the Beautiful
Aries girls are known for their fiery energy and bold personalities, so it's no surprise that they want a prom dress to match! Think bright colors, daring cutouts, and plenty of sparkle. Aries women aren't afraid to take risks when it comes to fashion – after all, life is too short to play it safe!
For an Aries girl looking for the perfect prom dress, consider going with something unexpected – maybe a jumpsuit or a two-piece set instead of the typical ball gown. Look for statement pieces that will turn heads on the dance floor and show off your confident personality.
When it comes to accessories, don't be afraid to go big or go home. Statement earrings in bold colors or oversized necklaces can add some extra oomph to your outfit. And don't forget about shoes – Aries girls need footwear that can keep up with their energetic moves on the dance floor!
An Aries girl's prom look should reflect her fierce spirit and love of adventure. So, whether you're rocking a neon mini-dress or sequined jumpsuit, make sure you feel confident enough to take on anything that comes your way at prom night!
Taurus: Pretty in Prints
Taurus, the second sign of the zodiac, is known for its love of luxury and comfort. When it comes to prom dresses, Taurians are drawn to pretty prints that evoke a sense of natural beauty.
Taurus women exude elegance and grace in printed gowns with soft hues such as pastels or creamy whites. They love intricate floral patterns or geometric designs, which add an element of sophistication to any dress.
For those who prefer a more traditional look but still want to incorporate prints into their outfit, a classic polka dot pattern can be just as gorgeous. Taurus' eye for detail means they'll appreciate even the tiniest print on a dress.
When it comes to accessories, Taurians tend to keep it simple and understated since they don't want anything taken away from their stunning print dress. A sleek clutch bag or delicate jewelry will complete this chic aesthetic perfectly.
In summary, Taurus individuals have impeccable taste when it comes to incorporating prints into their prom outfits. Their appreciation for elegance and simplicity ensures that they always look effortlessly beautiful on their special night!
Gemini: Dress to Impress
Gemini are known for their versatility and ability to adapt, making them one of the most fashion-forward signs in the zodiac. When it comes to prom dresses, a Gemini will always dress to impress.
For a Gemini, choosing a prom dress can be overwhelming as they tend to have many different styles that appeal to them. But fear not Geminis! You can find the perfect dress by opting for something unique and unexpected.
A two-piece gown with an intricate top and flowy skirt would suit Gemini's dynamic personality well. This style allows for freedom of movement while still looking elegant and sophisticated.
Geminis are also known for their love of bold colors and patterns. A vibrant floral print or geometric design will add an extra edge to your look while showcasing your confident spirit.
Accessories should be kept minimal but impactful – statement earrings or bracelets will bring attention to the details without overpowering the outfit as a whole.
Ultimately, when it comes down to choosing your prom dress aesthetic as a Gemini, trust your instincts and let your creative side shine through. Whether you opt for something classic with modern twists or embrace experimental textures and shapes, just remember: you were born under the sign of duality – so why not showcase both sides?
Cancer: Feeling Like a Queen
If you're a Cancer, then it's likely that you love all things luxurious and regal. When it comes to your prom dress aesthetic, feeling like a queen is the ultimate goal. You want to look and feel absolutely stunning on your special night.
To achieve this look, opt for a gown with intricate details such as beading or lace overlays. A classic ballgown silhouette will give you the royal appearance you desire.
When it comes to color choices, jewel tones such as emerald green or rich burgundy will complement your skin tone beautifully. To add some extra sparkle and shine, consider accessorizing with diamond or pearl jewelry.
Embodying the elegance and grace of royalty will make any Cancer feel confident and beautiful on their prom night. So go ahead and indulge in your inner queen!
Leo: Show-Stopping Sequins
Leo, you are the shining star of the zodiac signs and your prom dress should reflect that. Show-stopping sequins are perfect for capturing all eyes on you as you walk into the room.
When it comes to picking out a sequin dress, don't be afraid to go big or go home. Choose a bold color like gold or silver to really make a statement. Alternatively, choose a classic black sequin gown for timeless elegance with just enough sparkle.
If you're feeling daring, try on some dresses with unique geometric patterns made from different colored sequins – this will definitely make an impact! Don't forget about accessories too – shiny earrings and bracelets will complement your dress perfectly.
For those who prefer not to wear full-on sparkles, consider mixing in some subtle glitter accents throughout your outfit such as on your shoes or clutch bag. This way you can still embody that "show-stopping" energy without going overboard.
In summary, Leo's perfect prom aesthetic is all about being bold and making an unforgettable entrance in show-stopping sequins. Whether you opt for classic black or glitzy gold, embrace the spotlight and shine bright like the star that you are!
Virgo: Understated Elegance
If you're a Virgo, you're known for your practicality and attention to detail. You don't need flashy embellishments or bold prints to make a statement – you prefer clean lines, simple silhouettes, and understated elegance.
When it comes to prom dresses, think of classic styles in muted colors like navy blue or forest green. A sleek satin slip dress with delicate spaghetti straps would look stunning on a Virgo. Or opt for a timeless black gown with subtle beading along the neckline.
Virgos are also all about functionality, so consider choosing a dress with pockets! It may seem like a small detail, but being able to carry around essentials without having to lug around an extra bag is definitely practical.
As far as accessories go, keep things simple yet sophisticated. A pair of pearl studs and strappy heels will complete the look perfectly. And remember – less is more when it comes to makeup too!
With their refined taste and eye for detail, Virgos can pull off an effortlessly chic and elegant prom look that will turn heads without ever feeling over the top.
Libra: All that Glitters
Libra is all about balance and harmony, but that doesn't mean their prom dress can't be a little extra. When it comes to choosing the perfect aesthetic for this air sign, think glitter and glam!
A Libra's natural charm and elegance make them stand out in any crowd, so why not add some sparkle to really catch everyone's eye? A shimmering gown with sequins or metallic accents will definitely do the trick.
But don't just stop at the dress – accessories are key for a complete look. A statement necklace or earrings with some bling will bring your outfit to another level. Just remember to keep it balanced – if you're going all out on the glittery dress, opt for more subtle jewelry pieces.
When it comes to shoes, strappy heels in silver or gold tones will complement your sparkling ensemble perfectly. Don't forget a clutch bag with some shine too!
Libras should aim for an outfit that exudes confidence and glamour. All those glitters may not be gold, but it sure does make for a stunning prom look!
Scorpio: Femme Fatale
If you're a Scorpio, your prom dress aesthetic is all about channeling your inner femme fatale. Think sultry and seductive with a touch of mystery. Your ideal prom looks should leave an impression that lasts long after the night ends.
To achieve this look, you'll want to go for dresses that are form-fitting and show off your curves in all the right places. You can experiment with darker colors like black or deep red to add drama to your ensemble.
Accessorize with statement jewelry pieces like large hoop earrings or bold necklaces to draw attention to your neckline and collarbones. And don't forget about killer heels – they'll not only elongate your legs but also give you added confidence as you strut into prom!
When it comes to makeup, think of smoky eyes and dark lips for a mysterious vibe. Keep your hair sleek by opting for straight locks or a chic updo.
Embrace your Scorpio energy on prom night by going for an unforgettable look that exudes confidence and sensuality!
Sagittarius: Boho Chic
For a Sagittarius, the perfect prom dress aesthetic is all about embracing their inner bohemian spirit. As free-spirited individuals, they're drawn to relaxed and flowy silhouettes that allow them to move with ease.
A boho chic look can be achieved in a variety of ways. One option is to opt for a maxi dress in earthy tones like olive green or rust orange. These colors complement Sagittarius' adventurous nature while also adding an element of warmth.
Accessories are key when it comes to achieving a boho chic look. Layered necklaces, stackable bracelets, and statement earrings are great options for adding some personality and style to any outfit.
When it comes to footwear, comfort is key for Sagittarians on the go. A pair of strappy sandals or ankle boots with fringe detailing will complete their look while still allowing them to dance the night away.
A boho chic vibe perfectly captures the carefree essence of a Sagittarius individual. With its mix of relaxed silhouettes and bold accessories, this prom dress aesthetic is sure to make them feel confident and ready for whatever adventures come their way!
Capricorn: Old Hollywood Glamour
Capricorns are known for their sophisticated and classic style, so it's no surprise that they would want to channel Old Hollywood glamour for their prom dress aesthetic. Think of Grace Kelly or Audrey Hepburn in a sleek gown with simple yet elegant details.
For Capricorns, less is definitely more when it comes to prom dresses. They prefer clean lines and minimal embellishments, opting instead for luxurious fabrics like satin or silk. A fitted silhouette is key to achieving the timeless Hollywood look.
Black is always a safe bet for Capricorns looking to exude old-school glamour on prom night. However, if they're feeling adventurous, deep jewel tones like emerald or sapphire can add an unexpected touch of elegance.
Accessories should be kept simple but statement-making – think diamond studs or a chic clutch in patent leather. Hair and makeup should also be understated with soft curls and a bold red lip being the perfect finishing touches to complete the glamorous look.
Capricorns know how to make a statement without being too flashy – just like the Old Hollywood icons that inspire them.
Aquarius
Aquarians are known for their unconventional style, making them hard to categorize. They have a unique sense of fashion that is often ahead of its time. As an air sign, they value freedom and independence in all areas of life, including their clothing choices.
Aquarians tend to gravitate toward bright colors and bold patterns that reflect their eccentric personality. They aren't afraid to take risks with their fashion choices, which can lead to some truly spectacular outfits.
When it comes to prom dresses, Aquarians should look for something that stands out from the crowd. A metallic gown with futuristic details or a dress covered in abstract shapes would be perfect for this sign.
While they love taking risks with their fashion choices, Aquarians also appreciate comfort and functionality. A dress with pockets or one made from breathable fabric will ensure that it can move freely throughout the night.
Ultimately, an Aquarian's prom dress should reflect who they are as a person – creative, independent, and unafraid of standing out from the crowd.
Conclusion
Finding the perfect prom dress can be a daunting task, but by looking to your zodiac sign for inspiration and guidance, you can narrow down your options and find a dress that truly speaks to your aesthetic. Whether you're an Aries who loves bold and beautiful designs or a Taurus who prefers pretty prints, there is a prom dress out there that will make you feel confident and gorgeous on your big night.
Remember to trust your instincts when shopping for your dream prom dress – if it feels right and makes you feel amazing when you wear it, then go for it! After all, what matters most is feeling comfortable in your own skin so that you can dance the night away with confidence. Happy shopping!