Do you like soft and tender chicken breast? If yes, then I am sure you like the garlic-based instant pot chicken breast recipe. It is very simple to cook chicken breast using an instant pot.
Different types of chicken dishes can be made using an instant pot. But I am sharing the most simple cooking style of chicken breast. If you Like deep fried crispy chicken dish then check out our instant pot fried chicken recipe.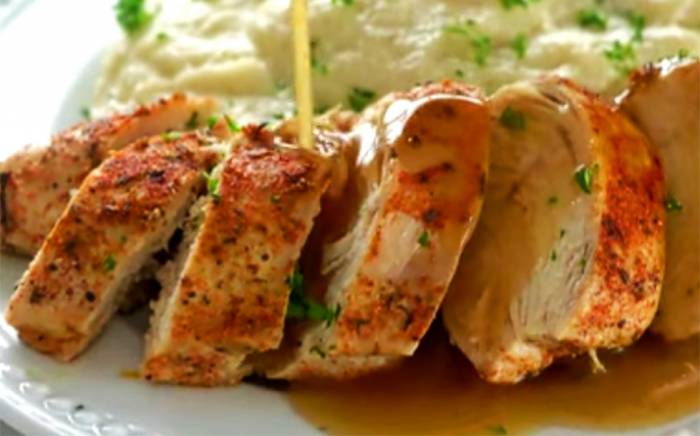 What we Need to Cook Instant Pot Chicken Dish?
To cook this dish we need three chicken breasts. Fresh or frozen, any type of chicken breast can use to make this dish. We also need garlic powder, black pepper, paprika, salt, and some other ingredients.
If you don't have an instant pot, cook it using a simple pressure cooker. Chicken lovers can also try deep fried chicken breast recipe.
How Long to Cook Chicken Breast in the Instant Pot?
The exact cooking time depends on the variety of chicken breast. If you use fresh chicken breast, it can take 8-12 minutes to cook. On the other hand, frozen chicken breast takes 4-5 minutes more time than fresh chicken to cook properly. Usually frozen chicken takes 12-16 minutes for proper cooking.
Cooking time also depends on the size of the chicken breast. Thinner size takes less time than thick size.
Follow all the cooking instructions below to make juicy and soft chicken breast dish.
Cooking Ingredients:
3 chicken breasts (skinless & boneless).
1½ cup chicken broth (low sodium).
1 tbsp Italian seasoning.
½ tbsp garlic powder.
½ tbsp onion powder.
½ tbsp paprika.
½ tbsp Black pepper.
Salt to taste.
3 tbsp olive oil.
Cooking Instruction
Combine Italian seasoning, onion powder, garlic powder, paprika, black pepper, and salt in a mixing bowl. Set aside.
Set chicken breasts on a kitchen board or any flat place. Now sprinkle the mixed spices over the chicken breasts. Season both sides of the chicken breast with spices.
Take an instant pot, set sauté setting and wait for 2 minutes to heat up. Add 2-3 tbsp olive oil into it. Place the chicken breasts in the instant pot. Saute until they turn brown on both sides. Each side takes approximately 3 minutes.
Remove the chicken and keep these on a plate. Set them aside.
Pour the chicken broth into the instant pot.
Place a trivet in the instant pot. Set all the chicken breasts on it.
Now close the lid and seal the valve of the pot. Set it as per your instant pot model.
Setting it on high-pressure mode and the timer to 5 minutes. After a few seconds, it will start to create pressure.
After 5 minutes press the stop button. Don't release the pressure manually. Let release the pressure naturally then open the lid.
Remove the chicken from the instant pot. Keep them on a plate and set aside.
Remove the trivet and the chicken broth from the pot. Cut the chicken into pieces then serve with the gravy.