Secret of a flawless skin, especially when subjected to facial skin underneath with regular nourishment and care. For years, you may have been told to apply everything except OIL if seeking for natural facial radiance. However it's time to kick out the MYTH! In fact the paradox is, face oils have been found way more capable to nourish and hydrate your face faster than a regular moisturizer. These are benign and compatible to each variant of skin; dry to oily.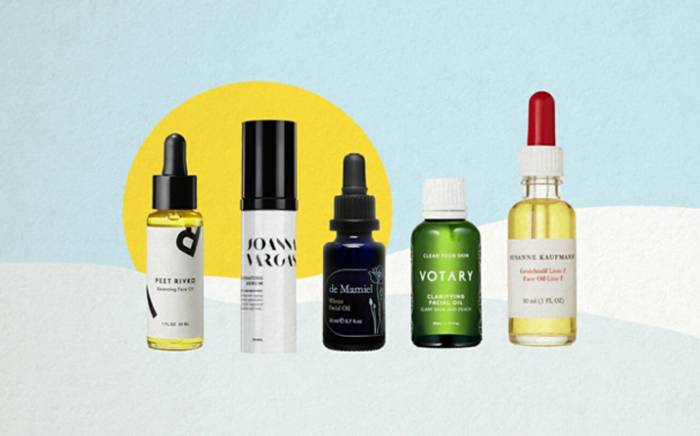 The best part is, facial oils are devoid of chemical alchemy rather composed of pure natural elements such as different types of essential oils, Jojoba oils, herbs, roots etc. Which integrally improves skin texture and firmness and reduces blemishes, pore clogness and wrinkles at the same time. Hence, if you're seeking for a flawless, naturally glowing face, go natural rather than chasing behind cosmetic trashes. In the following a list of top 10 facial oils as per Indian skin has been enumerated. Take a glance at these.
Top 10 Facial Oils for Indian Skin
Being a tropical country, pimples, rashes, excessive sebum secretion are regular enemies to our face. However, with these 10 oils, let's hope, you would find fidel and credible solutions.
Auravedic Kumkumadi Oil
Going herbal or ayurvedic is one of the most ancient techniques of skin nourishment. This Auravedic Kumkumadi oil is a modern infusion of that antediluvian method. The oil is composed of saffron, tree turmeric, wild Himalayan cherry (Padmuka) and several other herbs. The oil works as a grate booster against dark spots, fine lines and improves skin texture along with natural glow with impressive results. Just keep in mind not to wipe it for the next 2 hours after applying the oil on your face.
Minimalist Pure Rosehip Oil with Vitamin C
While you're seeking for clean and transparent facial beauty in a simple and minimalist way, this minimalist rosehip oil can be used as a common pill to all your needs. It is made up with rich fatty acids; mainly linoleic acid and oleic acid along with various antioxidants of Vit-C and Vit-A. The oil soothes the effects of hypergermation, skin oxidation and improves skin elasticity. This parabens, sulfate, silicon, essential oils and fragrance free oil is absolutely vegan, non-comedogenic and applicable to all skin types.
Good Vibes Vitamin C & Vitamin B3 Skin Glow Serum
Good Vibes vit-C and B3 is a pro level facial serum to mitigate wrinkles and enhance natural glow in a minimal time. It's also strongly suggested to use against skin blemishes, dark spots and fragile skin textures. Due to being composed of Vit-C and B3 the serum sufficiently balances skin moisture content and triggers keratin replication.
The Derma Co 100% Squalane Face Serum for Deep Hydration & Moisture Lock
The Derma Co boosts up hydration capacity of the skin 10x higher and eventually makes the face as soft as possible. The serum locks sebum secretion and produces impressive results against anti-aging. Made up with numerous antioxidants and skin repairing ceramids, this facial serum can perfectly be used against fast skin damage restoration.
Plum Grape Seed & Sea Buckthorn Glow-Restore Face Oil Blend
If you're worried about your dry skin and its nourishment, Plum grape seed face oil is the ultimate solution to the problem. The parabens free oil consists of crushed grape seeds and sea buckthorn which is perfectly compatible with very dry skin. Despite replenishing skin moisture, the oil is also brilliant to enhance skin texture and emitting healthy glow.
Kama Ayurveda Kumkumadi Miraculous Beauty Fluid
Any skincare essential of Kama Ayurveda is undoubtedly an authentic one. This Kumkumadi facial oil is no exception. It's aesthetically blended with saffron, sandalwood, vetiver and lotus which is a true elixir against skin disfiguration, scars and pigmentation. It weeds out all these skin imperfections from roots and eventually enhances natural glow and beauty.
UrbanBotanics Kumkumadi Tailam for Glowing Skin
The main ingredients of this Kumkumadi oil from UrbanBotanics are completely vegan and loitered around 4 major elements; saffron, almond oil, manjistha and goat milk. It deeply heals facial lines, wrinkles, acne and pigmentation. And for having goat in the composition a better skin homogeneity, texture and moisture is being found after regular use for a few days. This one is ideally for dry skin persona but can be used by normal people as well.
Faces Canada Urban Balance 6 in 1 Skin Miracle Facial Oil
Face Canada 6 in 1 face oil is another elixir of 6 essential oils; moringa, Jojoba, sunflower, hemp, grape and sweet almond. It's a magical solution against skin de-stress and repair. It flawlessly exfoliates facial skin and impinge natural radiance. On long term usage of this product, several other problems namely texture control, hydration balance and anti-aging will be solved.
Khadi Essentials Organic Sweet Almond Oil
The sweet almond oil works as a soft coated blanket on the face. It's enriched with vit-A and C which repairs rough skin texture, pigmentation and dryness from the root. Despite these, this oil is also a great relief of headache and psychic distress. The best part is, the oil is lightweight and grease free.
Nykaa Naturals Marula Facial Oil
Naturals Marula facial oil from Nykaa majorly triggers to control skin texture and combating acne marks and dark spots. Instead of applying it over the whole face, experts recommend gently using it on the affected areas. Despite Marula, it comes in other compositions as well namely Moringa, Avocado, grape seed etc. You can go for the one you choose.
Your face is the mirror of who you are. Therefore, you should be protective of your face and pamper whenever required. Hence let's assume  the description of the above 10 Effective facial oils certainly serve out your purpose. All these are generally affordable yet if you need them to be more handy, you can try or peek at some of the affiliated websites. So, pamper your face at your greatest potency.