Training and collaborating with employees scattered across different geographical locations is a challenging task. Multinational organizations often struggle to manage the learning and development of the staff in compliance with the company standards.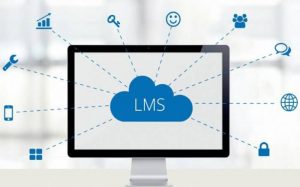 A cloud-based LMS system offers a real-time digital learning experience for support staff and client members. It plays a vital role in integrating the workflow between the team members. The system increases the efficiency of business process management.
What is a Cloud-based LMS System?
The global pandemic has popularized e-learning and remote working options for many educational and commercial organizations. Managers and business leaders find it extremely difficult to access and track progress among remote workers.
A cloud-based SaaS LMS system can host e-learning modules on the internet without the need for a local physical server in your company. SaaS means 'software as a Service', where your web browser will be the access key to enter the LMS system stored on the internet.
SaaS solutions come with a subscription model. You can pay for the services and use them without the need for specific hardware or software installation.
The global cloud computing market is expected to grow from $250.04 billion in 2021 to $791.48 billion in 2028, at a CAGR of 17.0 percent in the forecast period.
Benefits of Cloud-based LMS system
Deploying a flexible e-learning management solution in your company has many benefits.
Easy Installation and Maintenance
Deploying a traditional, on-site LMS system is a tedious process. A cloud-based LMS solution is comparatively easier to implement. The learning management platform service offers scheduled updates and troubleshooting tools for efficient maintenance.
Customizable and Scalable
An expert e-learning software comes with in-built customization tools to match your company's requirements. It allows administrators to change the user interface to suit employee needs.
A cloud-based LMS is a long-term investment as you can scale it up to accommodate new employees and business expansion.
Mobile Application
Employees and learners can access learning modules from any place and on any mobile device. Similarly, it helps managers and business leaders update or add new courses, set up learning paths, and track learning capabilities in real-time.
Enhanced Security
In a web-based LMS solution, data is stored on a reliable and secured network. Administrators can use SSLs and encryption techniques to check for secure connections over all data transfer channels.
How Does Cloud-based LMS Help in Remote Teams Collaboration?
Here are a few ways shared internet tools in an LMS system can help remote and local team members work together.
Real-time Communication
An e-learning system allows employees to share ideas and communicate with each other at any time. It works well with the flexibility of a remote workspace.
Employees can access and update the learning modules from different locations simultaneously. This helps them learn, work, and grow together as a successful team.
Automated Tracking Tools
A significant advantage of a web-based LMS system is that it offers automated tracking tools to manage information sharing between remote teams. The IT solution seamlessly integrates other HR management and salesforce systems within the organization.
With robust workflow management techniques, the system ensures that employees are up-to-date with the learning process. It helps you track and keep a record of the performance of individual team members.
Employees can give consistent feedback, which helps the company improvise learning capabilities to match their requirements.
Learner Engagement and Interactivity Tools
A cloud-based LMS solution comes with an interactive learning module. It helps increase employee engagement and learning with fun and impactful activities.
Employees can chat and play games like puzzles and quizzes online. It helps them to interact and network with each other. It also comes with gamification and social learning features to encourage knowledge sharing among the workforce in the organization.
Virtual Meeting Capabilities
An online learning management system comes with added features like video conferencing tools. Thus, it can help host virtual meetings with any number of participants.
These are simple, built-in capabilities and do not require manual installation or integration. Learners can access whiteboarding and real-time chatting for brainstorming ideas over the cloud.
Convenient Skill Assessment Tools
A digital learning management system maintains a real-time observation checklist that records the individual performance of team members. With automated skill assessment techniques, it is easier to identify the gaps and areas that need development.
On-demand evaluation tools help managers measure learning capabilities across the team. They can leverage the reports to increase employee development and engagement in the company. It helps in delegating tasks within the team according to individual talent and capacity.
An expert digital LMS system comes with dynamic, shareable, and personalized learning segments. The online social training software helps to facilitate meaningful interaction between employees beyond geographical structural, and cultural differences.