Over the years we have used many sign and printing companies, being into information business we also have experience with printing press and advertising and during the years have changed many companies and have maintained relationships with them. We can say that hiprintings is a special one, they offer a wide range of small and medium business marketing products, real-time assistance for businesses who needed help with their design and orders and 24 hour support all the time.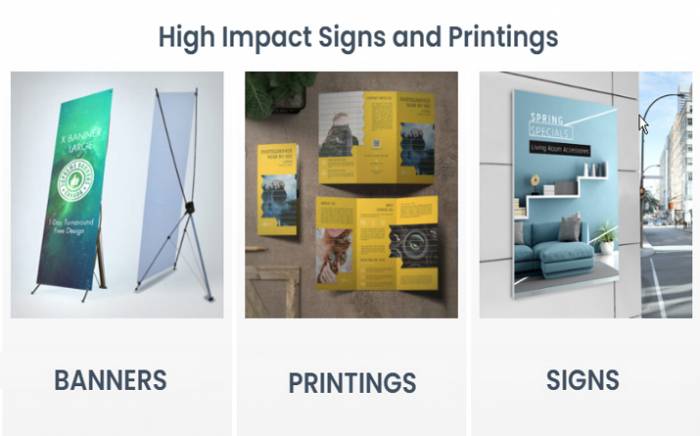 We had a wonderful experience and wanted to share that with you.
We came across Hi Printings on a search for a reliable printing company that we could trust with our marketing essentials. At first we were a little skeptic, but thought on giving it a try. What made us really excited about working with this company was having a look at the website. The website is really put together, minimalistic and very easy to use. Every product was easy to find and we liked that the products specifications were the first thing that catches your eye. The quality was the top priority for us.
Hi Printings Customer Service
The first thing we did was to contact customer service to get more information about the products, the designs and the production and shipping time (because we needed them for a trade show).
The thing that surprised us was the quick response we got and the willingness of the staff to help us with our requests. The communication process was very easy. They understood our needs and suggested us that, among other things, we should have a banner, branded T-shirts and letterheads for our trade show.
The next step was to get in touch with the designing team to discuss about the design we wanted on our products. We decided to give them our logo and let them make a design. That was the best decision yet, not only were they professionals, but they also provided us 5 designs for free.
Hiprintings Graphic Design Service
One of the strongest point of hiprintings.com I think is their graphic design service. Graphic designers make you very comfortable during design process. Shortening the design time and offering much suggestions related to our marketing improvement.
Shipping and Delivery
Once we chose the right design and ordered our products we had to wait for them to arrive. Customer service was too polite and they kept informing us twice about the process. It took them only 7 days, and this includes shipping and production time.  We were able to know where our order was at any specific time.
Product Quality
The banner was exceptional and the colors were bright. It was very easy to put up. We still have it up in our office.
The letterheads were high quality and they were perfect to write on. We really liked how sturdy the paper was.
The T-shirts were really comfortable to wear and the material was soft. The sizes were correct and the colors were perfect.
Products that our customer ordered:
Pull Up Banner
Branded T-shirts
Letterheads
Overall we were happy that we chose to try your company and we will continue to order from you!