Prefab steel garages are becoming a more popular option for homeowners looking for extra storage or workspace. The market size can reach around $171 billion by 2025.
They are affordable, durable and easy to assemble. However, you should consider some things before investing in one of these structures. This article will discuss the pros and cons of prefab steel building garage kits and tips on choosing the right building for your needs.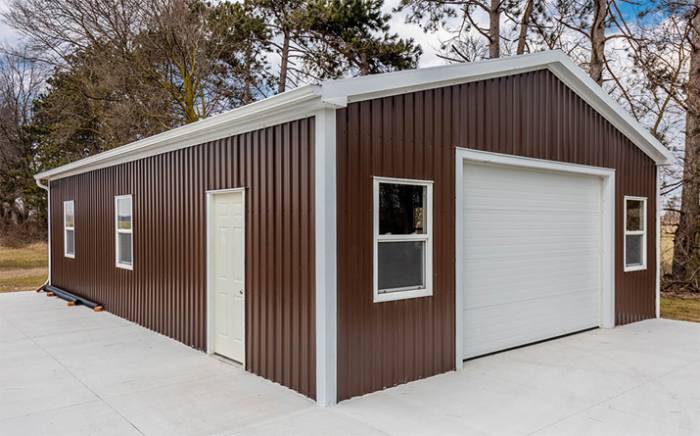 Size
The first thing you need to consider is how large of a garage you need. Do you have a lot of vehicles? Are you planning on using it for storage purposes? Once you know how much space you need, you can start looking at prefab steel garages that will fit your needs.
Another factor to consider is the climate. If you live in a city with severe weather conditions, you'll want to make sure your garage can withstand the elements. Look for a prefab steel garage rated for high wind and snow loads.
Most prefab steel garages come with a concrete floor, but you may need to pour a foundation yourself, depending on the size of the garage and your local building codes.
Style
Next, you must check if the style of the prefab steel garage compliments the look of your home. You would not want a big and bulky garage that looks out of place in your neighbourhood. The good factor is that there are many styles and designs of prefab steel garages to choose from.
Some come with brick facades, while others have a more modern look. You can even find ones that resemble wooden barns if that is the look you are going for.
Ease of Assembly
Steel building garage kits are designed for the do-it-yourselfer. All the necessary components are cut, drilled and punched at the factory. It means that there is very little on-site fabrication required.
The precut nature of steel buildings also speeds up the construction process because all you have to do is put the pieces together. Most people can easily assemble a steel garage on the weekend with just a few friends to help.
You don't need any equipment or training to put up a steel garage, and because the parts are bolted together, you can easily take it apart and move it if you ever need to.
Price
The total cost will include the price of the prefab steel garage kit, the cost of installing it (if you hire a professional) and any additional costs for permits or extra materials.
You will need to factor in the ongoing costs of maintenance and repairs. Many companies offer financing options to help make the upfront costs more manageable. It's vital to get a few quotes from different companies before making a final decision.
Roofing Material
Lastly, you need to decide on the roofing material. The most common options are steel, aluminum and asphalt shingles. Each has its pros and cons that you need to consider before deciding.
Whether you're an expert handyman or a beginner, you can erect a prefab steel garage with little hassle. With so many sizes, styles and types of garages available on the market today, it's essential that you choose the best one.